Investing in your child's future is every parent's goal for their children. Education has been part of a child's basic needs and is a vital part of determining their success in life. Sending our kids to the best schools gives them a chance to a better and more successful future, but it also means stretching our budget, because some of the best schools aren't as affordable as we'd like them to be.  
Being able to send your kids to school is something to be proud of. If money was not an issue, I'm sure we won't hesitate sending our kids to Ivy league schools. It's every parent's dream. If you're building a family, you're going to have to make this decision in the near future, and the best thing to do is seek financial advice on handling your finances. Or better yet, search for credible money lenders in Singapore that offer financial aid, such as A1 credit. These institutions are willing to provide any financial assistance especially if it's for your child's welfare.  
Money lending has gained popularity in aiding individuals and families financially. Global Partnership for Education estimates a complete education from pre-primary through upper secondary to cost $5,806.60. Parents of 2 or 3 kids going to school all at the same time can surely use financial assistance in getting their kids through school, especially if it costs this much. With the help of technology, bridging the gap between you and International lending companies is just a click away.  
Education for the elite members of the society is just as prioritized, but in a completely different way. When sending your children to Ivy League schools determines your social status, there is absolutely no way they're not going to an Ivy League school. Ever wonder how much the world's most expensive schools charge? Let's take a peek into the lifestyles of the rich and the richer.  
La Rosey, Switzerland  
Fees: £86,657 per year ($123,810) 
Known to be the most expensive school in the world up to date with two campuses – Gstaad, where students can ski during winter, and Chataeau du Rosey, where students move in the spring. The school has its own equestrian center, a 38-foot yacht, and a 1,000-seater concert hall.  
Aiglon College, Switzerland 
Fees: £80,810 per year ($115,456) 
The school accepts 9-18 year-olds. They offer outdoor activities where students can hike, camp, and ski. They also do a 20-minute meditation every week. 
Collège Alpin International Beau Soleil, Switzerland 
Fees: £79,528 ($113,702) 
One of the most exclusive schools in the world with the curriculum being taught both in French and in English. This school focuses on outdoor sports that include climbing mountains annually as well as trekking activities. 
Collège du Léman International School, Switzerland 
Fees: £68,960 per year ($98,526) 
Collège du Léman International School accepts students as young as 1 year old and offer a bilingual program of French and English. Among activities being offered are yoga, sailing, sculpting and horseback riding.  
Leysin American School, Switzerland 
Fees: £66,700 per year ($95,297) 
The Leysin American School is a high-profile school popular for its exclusive ski and snowboarding facilities. Although its name might sound like an exclusive school for US citizens, only 12% of their students are American. 
Institut auf dem Rosenberg, Switzerland 
Fees: £66,160 per year ($94,525) 
Known for its strict privacy policy, the school only has 260 students from over 40 countries. The average class size is 8 with a teacher-student ratio of 1:4. Around 60% of the students are fluent in French, Italian and German. The school is famous for its alumni from countless politicians and international royalty to heirs from large businesses. 
Think Global School 
Fees: £63,980 ($91,411) 
Think Global School is the world's first and only traveling high school were students are taken to four different countries every year. The school opened 7 years ago and has already gained a 100% passing rate for the International Baccalaureate qualification through its one teacher for every three students ratio (1:3). They offer scholarships, too.  
The American School in Switzerland, Switzerland 
Fees: £63,561 per year ($90,812) 
No, this is not an American exclusive school. The American School in Switzerland, however, is the first American boarding school in Europe whose students are from 61 nationalities and speak 35 languages. It is known for its Spring Art Festival which attracts famous musicians and artists each year.  
Brillantmont International School, Switzerland 
Fees: £52,010 – £59,680 per year ($74,309-$85,267)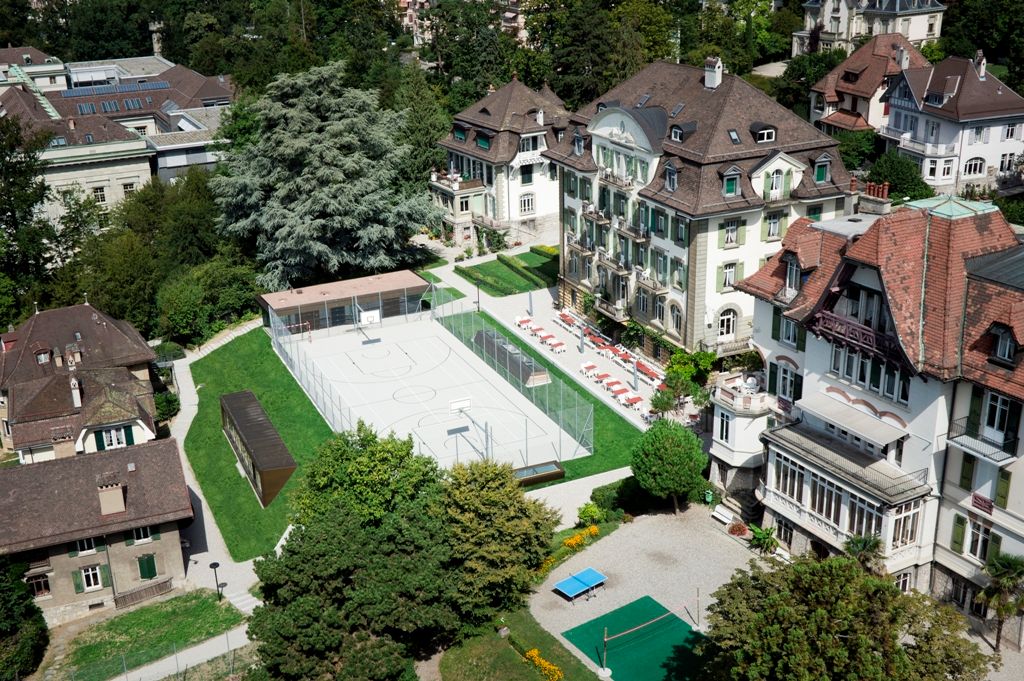 This family-run traditional boarding school has been known for 130 years. It is famous for weekend activities that include exploring the Swiss Alps, building houses in Nepal, and visiting other European countries.  
Hurtwood House, Surrey 
Fees: approx. £39,555 per year ($56,514) 
The Hurtwood House is the only non-Swiss school in this list and is the best boarding school in the United Kingdom. This unique school centers its curriculum in creativity, arts and performance, and has a population of 340 students. Hollywood veterans Emily Blunt and Hans Zimmer are known alumni of the Hurtwood House. 
Think these schools cost a fortune? Let's just be thankful we're not required to spend this much on education, otherwise very few of the world's population can be given the opportunity to attend school.